First Aid Equipment
Heading off into a remote area, or into a busy workplace? Our comprehensive selection of first aid supplies will ensure you're ready to protect fellow workers and loved ones when trouble strikes. From snake bite kits and our famous ready-to-go Rescue Swag first aid kits to advanced personal locator beacons (PLB) and our top-of-the-line defibrillator, everything is fit for purpose and set to make your efforts as an incident responder highly effective and efficient.
Shop Now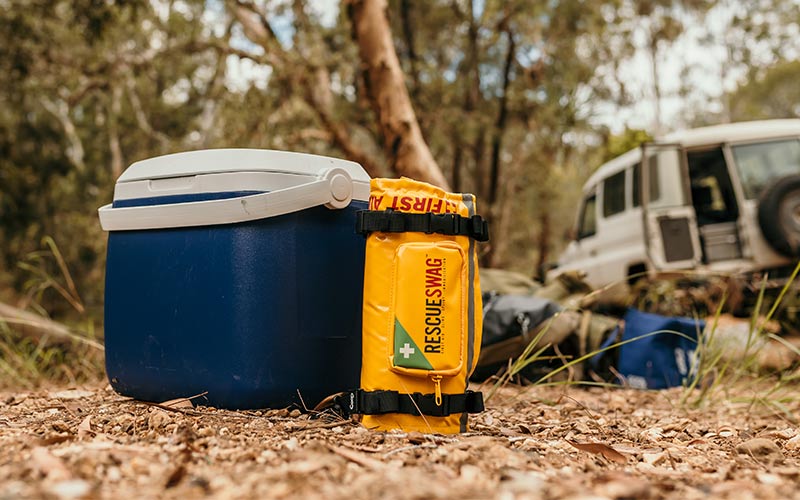 Survival Medical Supplies
When travelling in Australia, always pack a top-quality medical kit to ensure peace of mind when spending quality time far from the noise and bustle of the cities and suburbs. In an emergency, time is critical, and having the first aid kit supplies you need right at hand can make a huge difference to the outcome. Equip yourself  with the best so you're ready for anything.
Shop Now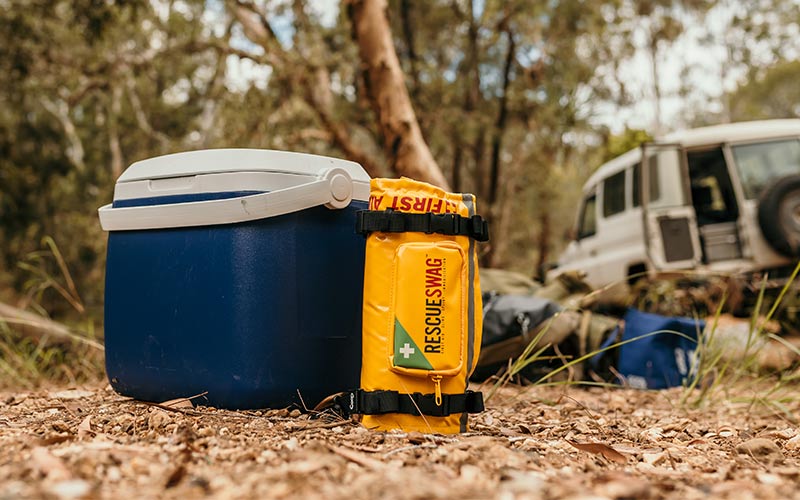 First Aid Kit Refills
Don't be caught in an emergency with a medical kit that has inadequate or expired first aid supplies. If you've responded to an incident recently, you'll probably be missing some supplies, and if you haven't checked expiry in the last 12 months, we suggest you do so now. It's easy to get your kit resupplied and up to date with our first aid kit refills, click below to shop the range.
Shop Now
Choose Rescue Swag Today!
Rescue Swag is proudly owned by the Royal Flying Doctor Service (Queensland Section). All profits made through our first aid products support RFDS' critical and life-saving work throughout the state.
First Aid Kit Supplies
Providing our customers with high quality first aid supplies is our number one priority. For us, it is pertinent that your kit is equipped with the right supplies to ensure you're prepared should an unexpected situation arise. Our extensive range covers most medical emergencies so you can rest assured that you'll be ready for anything when shopping with Rescue Swag. Our specially selected supplies are perfect for workplace kits, medical kits, personal kits and more. Need some help deciding what you might need for your kit, or need help purchasing a new one? Our friendly team is here to help.
Rescue Swag are Australia's leading first aid kit suppliers owned by the Royal Flying Doctor Service. Our famous first aid kit supplies are out there supporting everyday Aussies, medical teams and protecting thousands of travellers every day.
Frequently Asked Questions
What Shouldn't Be In A First Aid Box?

It is important that your first aid box does not include items or materials that are out of date, or no longer in a state where they can safely be used. For example, bandages or wound coverings that are no longer sterile, have become soiled, are damp, or simply look unworthy of use.
What Is The ABC In First Aid?

ABC in first aid stands for airway, breathing, and circulation. These are imperative fundamentals to a first aid situation.
How Do I Decide What to Include in My Kit?

Everyone's needs are different when it comes to first aid, that's why we have created various kits for use in a variety of environments and settings. From lightweight, portable first aid kits for hiking through to comprehensive medical kits for the office or farm. Need help deciding? Simply contact us at sales@rescueswag.com.au and our team will be happy to help.
Why Choose Rescue Swag?
Everything we offer is chosen to support the first responder in a medical emergency, far from home or right down the street. Whether you are a trained paramedic or a motivated individual, you'll find our products are ready to help you in your mission. Our first aid kit supplies are designed for maximum utility in the challenging environment of the Australian bush. Everything we sell carries our 30-day return and refund guarantee and we also offer free shipping for orders $100+. Browse our products and purchase online – and email any enquiries to sales@rescueswag.com.au.