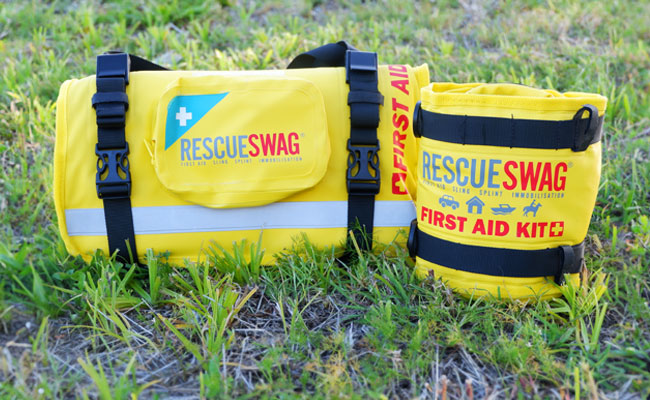 Adventurer + Explorer Rescue Swag Bundle
This bundle combines two of our best-selling first aid kits in one exclusive bundle, containing everything you need to stay safe on your next camping, fishing, or hiking adventure.
SHop Now
Adventurer Rescue Swag
A comprehensive personal kit designed for groups and families, perfect for keeping in your Ute or 4X4 to be ready to respond to Sprains, snakebites, burns, and other minor or major injuries or accidents.
Shop Now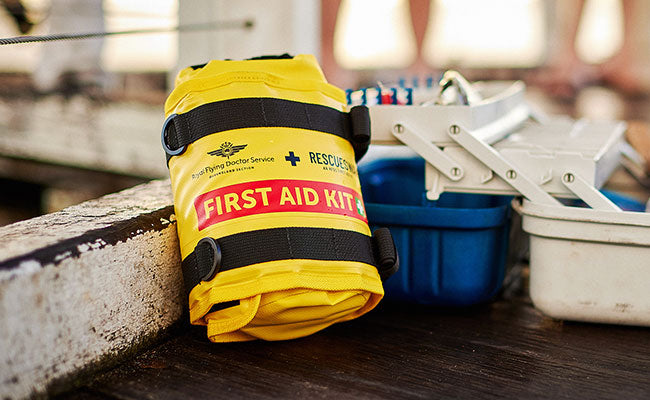 Explorer Rescue Swag
A compact, lightweight kit that's perfect for taking on bike rides, hikes, fishing trips, and other adventures to ensure you're prepared to respond to any minor accident or injury.
Shop Now
Choose Rescue Swag Today!
Loved by thousands and owned by the Royal Flying Doctor Service (Queensland Section), consider Rescue Swag when you want to buy first aid kit online. Make our kits your first line of defence when it comes to keeping you and your loved ones safe.
Personal First Aid Kits
At Rescue Swag, we offer a comprehensive range of premium-quality first aid kits. All our personal first aid kits come fully stocked with everything you will need to provide care in an accident or emergency, so you can rest assured that you and your family are safe – whether at home, at work, or out enjoying the great outdoors.
In addition to our trauma and first aid kits for sale, we stock a huge range of defibrillators, snake bite kits, first aid kit refills for existing kits, and other medical equipment and safety equipment to give you peace of mind – wherever you are.
Consider us your one-stop-shop for all your first aid and medical supplies. With a diverse range of kits to suit all needs and budgets, you're sure to buy first aid kit bundles that keep
yourself and others safe. Browse our range today or contact us at sales@rescueswag.com.au for help to buy first aid kits online.
Frequently Asked Questions
What do each of your packs contain?

All of our personal first aid kits contain everything you need to respond to a variety of accidents and provide first aid. You can find a more detailed list of what each pack contains by clicking on the name of the pack you are interested in, then clicking "Pack Contents" to view a full list of the contents.
Which of your packs is best for me?

Whilst all of our personal first aid kits contain vital medical supplies, the specific requirements and intended use of your kit will determine which is best for your circumstances. To help you decide, we have created a helpful quiz which can be accessed here.
Do you sell wholesale first aid supplies?

Yes! We have a selection of bulk first aid supplies available for wholesale purchase – perfect for offices, workplaces, outdoor activity providers, or rural/remote landowners wanting to make sure they're prepared for any first aid scenario.
Why Choose Rescue Swag
We are one of the country's leading trauma and first aid kits providers. We are 100% Australian-owned, operated, and dedicated to using only the highest-quality medical supplies and equipment in our packs. Our superior quality products are backed up with the highest standard of customer service, as our representatives will always be on hand to answer any questions you have about any of our kits.
Our first aid kits for sale are some of the most durable on the market. All of our kits are made
with the harsh Australian bush in mind, with a hardy water-resistant and dust-proof outer case that is durable enough for you to take and use anywhere.
You can rest assured you're safe with Rescue Swag.
At Rescue Swag, we are ready to help you with all your first aid and medical supply needs. Our extensive range kits will ensure that all your needs are covered, whether you're looking for a kit for use at home, work, or the great outdoors. Browse our range of first aid kits for sale online or contact us at sales@rescueswag.com.au if you need help choosing the perfect first aid and trauma kit for you.