Building Resilience
Join the movement!  Visit the RRRC Connect crowdfund at https://www.gofundme.com/rescue-swags-for-treaty-villages to fund 110 Rescue Swag Birthing Kits for the PNG Treaty Villages.
Australia's nearest neighbours, located on the PNG coast less than five kilometres from the Australian border, live in extreme poverty and hardship.  There are no hospitals or healthcare professionals. There is no running water, mains electricity or road connections to the rest of PNG.

The area is one of the poorest and least advantaged regions in the world, with a Human Development Index of 0.26, equivalent to the Democratic Republic of Congo.  Additionally, the region suffers from outbreaks of disease including multi-drug-resistant tuberculosis (MDRTB), HIV-AIDS, malaria, cholera and even leprosy.

This situation persists, right now, less than five kilometres from the nearest Australian territory of Saibai and Boigu Islands.  

Taking Action – Building Resilience

The Reef & Rainforest Research Centre (RRRC) manages a joint Australian-PNG community development program called 'Building Resilience in the Treaty Villages'.

The aim of the program is to increase the villages' self-sufficiency and ability to resist the effects of disease and drought.  The program has successfully trained 52 Treaty Village men and women as Community Rangers using a uniquely Australian model.

Community Rangers are key community-building personnel skilled in sanitation, first aid, community health awareness, plumbing, building, well digging, disaster response, marine rescue and leadership.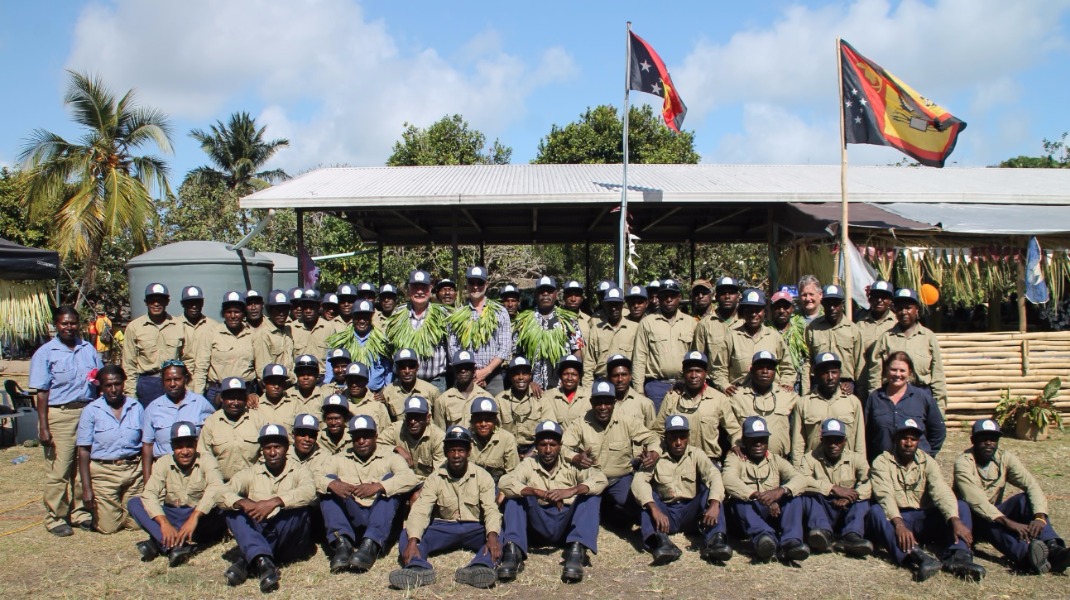 These rangers have built eight new wells, delivered 1.25 million litres of water storage capacity to the four Treaty Villages (and a further 90,000L in adjacent Katatai village), and have refurbished the Mabaduan medical centre that was unusable.


RRRC have made a commitment to these Papuans that we work with them to build community resilience through knowledge and skill-based training.  Another 58 Community Rangers from the other nine Treaty Villages will be trained in 2017/18.
 
Our Goal – Saving Lives with Far North Queensland Invention

Following a successful trial, our goal is to purchase 110 Rescue Swags so that each Community Ranger has the resources, at hand, to provide appropriate first aid. By doing so they will save lives.




Rescue Swag will attach to the Community Ranger's belt when they are responding to a first aid call out.

Rangers with a Rescue Swag will be equipped to handle burns, snake bites - which are common and generally fatal - lacerations, eye injuries, fractures, amputations, shock and more. Below is a handwritten report from a Community Ranger about treating a villager with a severed thumb:

 


As a direct result of their first aid training, female rangers are being called upon 24/7 to assist women in labour, like these incidents:




Treaty Village women are birthing in unhygenic and difficult conditions, on the ground or on banana leaves and using old razor blades or slivers of bamboo to cut umbilical cords. The average birth rate per woman in the South Fly District is 5.6 (nationally it is 3.8).



Five women die in childbirth every day and 30% of babies that die under the age of one month do so due to birth related asphyxia or trauma. 

 The Rescue Swags we will send to PNG have been adapted to contain an umbilical clamp and stainless steel scissors for cutting the cord, as well as the standard first aid inclusions. The Swag itself will be used as the birthing mat. These seemingly small additions will save the lives of mothers and babies.

How you can help 

We need your help so we can provide 110 PNG Community Rangers with their own Rescue Swag, so when they are responding to an accident, birth or emergency they go with the confidence and knowledge that they have the necessary medical supplies to be able to deal with almost any situation.

The Rescue Swag team have committed to supply one Rescue Swag and one complete refill of each kit's consumables, for each Rescue Swag funded.  Rescue Swag have also donated 5 boxes of medical goods for interim use, to ensure that care is immediately available.  

Watch this space for our crowdfund, launching soon!